Oh my god you guys this book.
It has been a while since I read a story written by Mrs. Armentrout, because I love her books and the last couple books I've read by her were not the best and I didn't want to start hating her writing. That would be the worst, but holy smokes you guys!!
Moonlight Sins was so good!
Also, what a messed up family… seriously.
Anyway let's see what the book is about  shall we?
Julia Hughes has always played it safe until she learned a very painful lesson. Now Julia's starting over with a job in the Louisiana bayou—and a scorching encounter with a stranger, only to discover he's Lucian de Vincent… her new employer. The de Vincent brothers share a massive fortune and a dark reputation. Julia cares for their troubled sister, but a menacing presence in the mansion—and the ever-present temptation of Lucian—prove dangerously distracting.
Lucian's grandmother claimed de Vincent men fall in love once—and hard. Apparently, it's Lucian's turn. Julia's compassionate care of his twin makes Lucian want to lay himself bare. But some secrets are better for Julia not to know.
The recent "suicide" of Lucian's father is the latest in a string of deaths on the estate. Someone is eliminating the de Vincents. And the best way to get to Lucian may be through Julia…
And there you have it ladies and gentlemen,  doesn't that sound like you want to just leave everything behind and start reading it right away?
Like seriously?
Moonlight Sins gets 4.5 out of 5 stars in the Then There Were Books review book!
The de Vincent family is messed up, let's begin with that shall we?
I know that is one of the phrases used to promote the book, but goodness that phrase was definitely not used lightly.
There are so many reasons why the family is so weird and definitely not your average family. And I want to list them all here for you, but I feel like I would just spoil the whole book for you and I don't want to do that.
I'm just going to tell you what I liked and what I didn't like and then you can decide for yourself if you want to read this book.
Let me tell you how much I loved the plot.
We have Lucian who is a grossly rich guy, used to getting what he wants, and he's got the looks. Perfect package, but obviously he is sort of a manwhore, because he is the perfect guy and girls sort of just see the looks and the money.
That is the feel you get by just reading the description and well for like half the book. Also he really has never been wowed by  anyone before so that's why he's a manwhore (trying to defend him a little here).
Then we have Julia. She's been hurt before, but is not like a super defying thing to her personality. She has learned and she is a grown woman who knows what she wants and is *in my opinion* a very normal person trying to break her routine before she gets a midlife crisis. She is so relatable and just altogether a great character.
Then we have the de Vincent family. Oh God, when I read the first chapter I was a little confuse, my brain couldn't really get what was happening and then things started happening and I was just like "we are in for an awesome ride," that was literally what was going through my head and obviously the story didn't disappoint.
I really liked Gabe, he seems fairly normal, but I know that the next book is about him so I'm excited to see how his character is more messed up than what we see through Julia and Lucian's eyes.
I don't like Dev, he seems super rude and like nothing affects him and that infuriates me a lot. But I feel like there is some big thing coming for when his book is released.
Then we have Madeline, I knew something was up with that girl from the beginning. And that is all I'll say about her. Don't want to spoil anything for you.
Overall I really enjoyed the development of the love story between Julia and Lucian, it was so normal for how intense the relationship was. I mean it was a Love/Hate relationship, but for them to actually fall in love it took time, it really developed and I really liked that .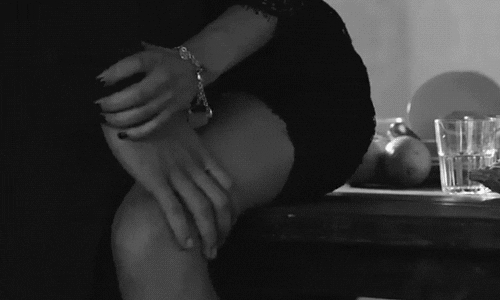 I mean they first have a passionate and wild first meeting, but after that he allowed her to fall for him, and I liked that. I mean he was always like there and insinuating things, making Julia believe he was just a playboy, but I feel like he still gave her space for her to see beyond what he'd let anyone see and fall for him.
Though I do have to mention a couple things I didn't really like about the story and that is just the normal cliches, you know? Girl meets guy, guy is filthy rich and cocky, girl doesn't believe his intentions, but can't help fall for him, then big climax, then love story. I mean I still love them, but lately I been seeing that pattern quite a bit in JLA's books, still love them because of how the story develops, but that doesn't mean it doesn't bother me a little.
Still Moonlight Sins managed to make me see past those cliches and fall in love with the characters and the story!
Intense, wild and major twists, is what is instore for you if you decide to read this lovely story.
You should definitely pick it up and read it before we get introduced to all the sides of Gabriel in Moonlight Seduction (which you can already preorder by the way!)
Amazon | Barnes & Noble | iBooks
Read you guys later!!!