Well hello there stranger!!!
It's been a while and I'm here to tell you why I took a break from reading and took on a new obsession!
I been actively reading for about four or five years and ever since then I haven't really obsessed over anything else, but reading and writing. Now that I've found a new obsession I sort of stopped reading for a bit, not completely, but it's definitely not the thing I do before I go to bed or whenever I have a little free time.
This new obsession is still a little bit like reading because I'm reading for about five to six hours a day, but it's not books it's Korean Dramas.
Yes, I have to confess that I have fallen victim of the K trend, everything, Korean Pop and Korean Dramas are like the best new thing for me at the moment.
I still read a lot because obviously everything is in Korean and I'm only bilingual (English and Spanish), but what I read are subtitles and song lyrics so I can understand what is happening.
Why and how did I get so obsessed with Korean Dramas you ask?
Well about five or six weeks ago this author that I'm friends with on Facebook you might have heard her, she is half of Erin Watt from the Paper Princess trilogy (Jen), she posted about a show called Boys Over Flowers that was on Netflix and that in a way resembled the trilogy a little bit so I had to go check it out.
I fell in love with the story and even though it was in Korean and I had to read all of what was happening I still loved it and I couldn't really get enough of them. It was like discovering a whole new world and I had to take part of it.
So I've been completely obsessed with every single new story that I find on either Hulu or Netflix or Drama Fever or Viki, I'm completely crazy about the shows.
Also because of this I have learned a whole lot of another culture and how it differentiates from the States and how they are similar.
So it has not only been about loving something else, but learning form it and appreciating other cultures, also since I love the dramas so much I've been completely obsessed with the language as well and I've learned a few phrases and words in Korean so learning has been none stop.
My housemate is not too fond of them and constantly I have to watch them on my computer, but I honestly could care less, they are my new drug.
Of course it doesn't mean I stopped reading books altogether  because that would be like giving up part of who I am, but I'm trying to find a happy middle between reading and watching dramas. I have yet to find it, but I'm working hard on it.
If you wanted to know so far my favorite dramas have been Heirs, The Legend of the Blue Sea, My Love From the Star and Strong Woman Do Bong Soon, just telling you this just in case you are also a K-Drama fan and want a friend to talk about them just like me.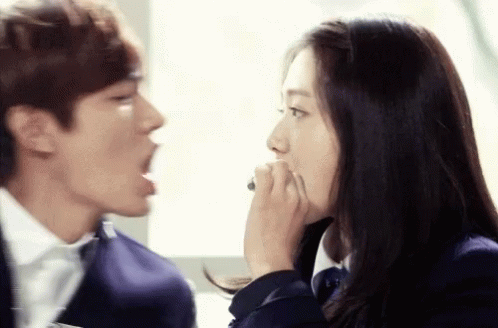 Do you have any thing that you obsess over that other people find weird or that you yourself think is weird?
Tell me about it, maybe we might share the same obsession.
In the meantime I'll go  and start a new Drama because why not?
Read you guys later!