There are many books that I consider my favorites and if you ever made me choose between them I would probably exploded with indecision and I would hate you forever.
But if you ever asked me to give you a list of books that are my favorite I would probably be able to no exploded and hate you forever and give you a realistic list and even though it would still be hard I could give you a list of the books that I always recommend for others to read when they are first starting to get into the reading scene.
And I know you didn't ask for it, but I felt like it was time to give you said list. Some of this books I've only read once and others I've read five or more times. No, who am I kidding I have read all the following books at least three times.
But don't be mistaken this list is not about super popular books that I have probably talked about in the blog, this one is about not so popular books (to my belief) that are definitely some of my favorites.
After the End by Amy Plum
This book was so good. When I first read this book it was something completely new. I'm all about romance and impossible situations that prevent the main characters to be together.  But, After the End was so much more than that. It was all about finding the truth, finding who you are and dealing with the truth.
I love the character development and how Juneau and Miles came from distrusting each other to being the only people they could trust. Their story developed from strangers, to friends, to loving each other. When things got though they relied on each other to make it out and then the supernatural elements added the best twists and it made this read a memorable one that I will forever recommend.
Landline by Rainbow Rowell
By now you know how much I love Rainbow Rowell. Her books always have a twist of personality and reality that many books lack. They are relatable, fun and the book always teaches you some sort of lesson.
The reason I loved and I always recommend Landline, is because even though it's supposed to be an "adult" novel, it merges with the new adult and it's awesome. In this book we follow a middle age woman and her family, they are supposed to spend Christmas at the husband's home like every year, but a test is presented to Georgie (the wife). She has to choose between her life and career goals and her family.
In the beginning doesn't seem like it is, but it so is. Landline has the task of reminding the reader of what is truly important in life. It might be fantasy and a little on the supernatural aspect, I mean it is a magical phone after all, but the purpose of the story is for the reader to realize that there are certain things in life that are worth fighting from, from the very beginning not just when things are going downhill.
Landline was about romance and how when you get older and have kids it might seem like is not as important anymore, but it is the foundation to married life and just life in general. To me the story was about love and reminding Georgie (main character) and the reader that sometimes life brings on situations so that her (the reader) is reminded of how they got there and what is on the line if the path keeps going in the same direction.
But it's Rainbow Rowell so you know is funny, heartfelt and over all amazing.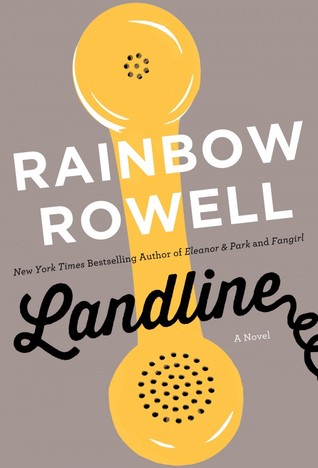 Isla and the Happily Ever After by Stephanie Perkins
You might wonder why I liked Isla and the Happily Ever After better than Anna and the French kiss and here is why: I loved Anna and the French Kiss don't get me wrong, but with Isla the story sort of went back to where it all began. Also this story in my humble opinion was  way better than the previous two stories.
I don't usually read series that don't follow the first main couple, but there are times where the books are so good I cannot help myself. That is what happened with this series. Each book has it's own cuteness and lovable elements, but Isla was just better.
In this book we see two very different characters fall in love and we see them suffer and we root for them and we want them to get together but they need to realize that there is more to life than wanting to be together.
Josh is a "trouble" kid that feels lost now that his friends and former girlfriend all have graduated so he sort of goes through a rough patch and just wants to get kicked out of school, but then he falls for this lovely insecure girl that has had a crush on him for the longest time and he tries to be better but it is too late. They try to make it work, but their personalities and families and life circumstances test them. Test them to see if what they have is true and long lasting.
Isla and the Happily Ever After is full of hopes and dreams, and second chances and it's also funny and it wraps up the series perfectly. Just thinking about this story makes me want to go and re-read it. It such an easy read and it always leaves you with a smile on your face (at least it does to me), so that is why I always recommend this book.
Cursed by Jennifer L. Armentrout
Jennifer Armentrout is my favorite author and you all know that. Her books somehow have all the right elements to make you fall in love with the story and the characters.
One of her earliest books is Cursed. Cursed is a standalone that could easily be turned into a series, but I doubt that will ever happen.
Cursed follows a girl (Ember) who died and was brought back to life by her little sister (that right there has got to get you hooked). Since she came back there was a price to pay, everything she touches dies.  This girl's life is messed up and she thinks she is going to have to live with this curse for the rest of her life.
Not only did she died and came back to life with the curse, but her father died in that accident and her mother acts like she died too even though she is always there. So when she least expects it this guy comes in and promises to help her, he and his father swear that she is not cursed, but gifted. She has no other options, but to actually go with them and learn as much as she can about her "abilities".
The reasons I love and always recommend this book is because it's sort of like an X-Men thing, you know she goes to this house full of gifted (cursed) people who are learning to control their abilities and be as normal as they can.
It's got romance, adventure and twists that you wouldn't expect, and it's just great all together. If you have yet to read this book, I would say you should because is an easy read that again will leave you smiling and wanting more.
Fragile Line by Brooklyn Skye
Fragile Line was such an unexpected amazing read. If I remember correctly this book came in the recommendations area from the Kindle app, I don't know that I was reading for the kindle to recommend this book, but I'm glad it did.
This book deals with multiple personality disorders and other mental health issues. I'm not big on dramas such as this and that is why I was so surprised when I started this book and couldn't put it down.
Fragile line has all the elements that make a story great, is not about the romance, or the self discovery, is about coming to terms with your past and figure out how it affects you in the now.
I just really liked this book, all of it, it had just the perfect amount of drama just like I like it and some unexpected turns. Definitely recommend it!
Storm by Brigid Kemmerer
This book was a little weird for me, but in the good way.
There is the bizarre events and then the supernatural and then the romance and the stubbornness of teenagers. Storm was an enjoyable ride that wouldn't let me do anything aside from reading the story. Maybe I was in a mood for such books, or I just really loved it.
Drama, jealousy, supernatural, hot brothers, and unexpected turn of events. This story is just great, the beginning to a great series.
I just love it so much that I wouldn't be able to tell you things without spoiling, so just know that it's a great read and one I always recommend.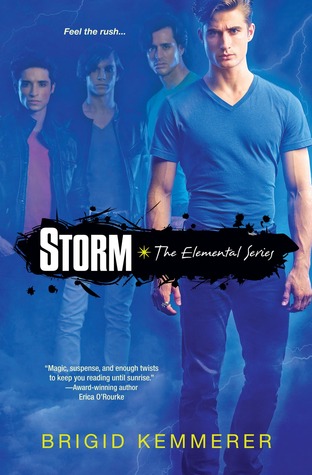 Never, Never by Colleen Hoover and Tarryn Fisher
Colleen Hoover is an awesome writer and so is Terryn Fisher, but before Never, Never I had never heard of them. I found this book just like I found, Fragile Line, it was recommended through the Kindle app and I fell in love with the story.
It was something different, like I've read things like it before, but never one that had kept me guessing what the hell was happening until the very end. It was brilliant.
There was something in the story that every time you thought you knew what might be happening or why things happened the way they did, something competently unexpected happened that made you second guess everything.
Also there is the drama, and the romance and just good writing all together, I don't really read books written by two different authors, but this book was amazing and I always recommend!
The Girl In Between by  Laekan Zea Kemp
The Girl in Between was a surprise love for me. Like I have mentioned before, sometimes I download free books through my Kindle that sound so promising and end up being awful but, The Girl In Between gives me hope all the time.
This is the first book in the series and it's weirdly good and unexpected. The story follows a girl with a disorder that doesn't let her wake up like normal people. You know, we go to bed, sleep for like six to twelve hours (on a good day) and then wake up and go about our lives right?
Well Bryn doesn't. She sometimes sleeps for weeks at a time and it's messing up with her life big time, but then something even more messed up happens. She meets a guy in her dreams and that is when things start to turn for the weirder.
The guy is actually alive to, is not a guy just in her dreams, he is a breathing living human being who is on life support and might be running out of time. Obvious they don't discover this until is critical and they have to figure out a way to fix things. Her symptoms are worsening and he might be dying, not tell me if that doesn't make for a great story?
The Girl In Between is free to download in your kindle and believe you are going to want to, it has drama, mystery and just the right amount of romance to make you want to read until the very end.
My Life Next Door by Huntley Fitzpatrick
My Life Next Door is one of the most adorable books I've ever read.
It's sweet and romantic and it makes me smile just to think about it. It's such an easy read and it's one of those books that makes you feel good about the world.
The story follows two different people that have lived next to each other for years and have never really talked because even though they live in the same neighborhood they are people from two different worlds. He has a big family that keeps on growing and she has a family that stopped at two kids and the father is not in the picture.
Samantha is rich Jase is not. But they don't care about any of that, they fall in love, that teenage love that makes you believe you can do anything, that has you thinking of your SO at all times and makes you want to experience the world together.
Obvious is not all about their difference and romance, is about learning to grow, learning that not everything is forever and that sometimes you have to do what is best even if that ends something you thought was forever or ruins someone's career.
My Life Next Door is the perfect book to read when you are feeling down, or just want to feel good about the world and believe in people.
Serial Hottie by Kelly Oram
Over the years I have read many books by Kelly Oram and this one was one of my favorites ever. It has you guessing from moment one if Seth was a bad guy.
Ellie was a fun character to get to know and the story was just ordinary and fantastic. Ordinary in a way that was so relatable, I mean if weird things happened in our town right after someone moves right across the street from us and then all the signs point for that person to be the one to blame, we would all react the way Ellie reacted toward Seth.
Then there was the romance and the angst and well, Serial Hottie, has all the elements of a fun and memorable read that has you turning the pages until you actually finish it. One of my favorite books for sure.
There you have it guys, this is a short version of a very long list of favorite books I have. It obviously doesn't feature ALL of my favorite books, but I feel like these books are not so widely known and I want you guys to maybe give them a try.
Let me know what you think, through Facebook or Twitter.