I'm honored to be among the bloggers who got the chance to watch the Till Death  by Jennifer Armentrout book trailer and now revel it.
The book sounds amazing, and the trailer is pretty cool. So here you go, brace yourselves and enjoy.
Till Death comes out February 28 and you can pre-order now.  Enjoy the trailer!
In New York Times bestselling author Jennifer L. Armentrout's gripping new novel, a young woman comes home to reclaim her life—even as a murderer plots to end it. . .
It's been ten years since Sasha Keaton left her West Virginia hometown . . . since she escaped the twisted serial killer known as the Groom. Returning to help run her family inn means being whole again, except for one missing piece. The piece that falls into place when Sasha's threatened—and FBI agent Cole Landis vows to protect her the way he couldn't a decade ago.
First one woman disappears; then another, and all the while, disturbing calling cards are left for the sole survivor of the Groom's reign of terror. Cole's never forgiven himself for not being there when Sasha was taken, but he intends to make up for it now . . . because under the quirky sexiness Cole first fell for is a steely strength that only makes him love Sasha more.
But someone is watching. Waiting. And Sasha's first mistake could be her last.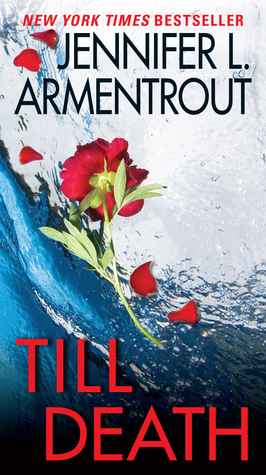 Sounds so perfect, doesn't it?
I cannot wait for this book to come out. It is one of my most anticipated books, and like I've mentioned before, Armentrout is one of my favorite authors of all time.
If you love contemporary, romance, and thrilling stories, then I'm sure you are as excited as I am to read Till Death.
Till Death comes out February 28, and you can pre order in the following links:
Amazon: http://amzn.to/2kb5FlY
iBooks: http://apple.co/2aK0qtx
IndieBound: http://bit.ly/2jVMYpk
 If you want to know more about Jennifer and her schedule and awesome books, you can follow her in the following social media platforms.
Facebook: https://www.facebook.com/JenniferLArmentrout/
Twitter: @JLArmentrout
Instagram: authorjlarmentrout
Website: jenniferlarmentrout.com